Wind Energy Basics - New Edition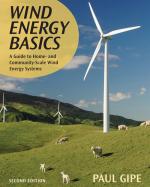 "Wind energy works and makes environmental sense—more so today than ever before—but consumers have to be on their guard," writes wind energy pioneer, expert, and advocate Paul Gipe in his newly revised Wind Energy Basics, Second Edition: A Guide to Home- and Community-Scale Wind-Energy Systems. Gipe has worked for over three decades in renewable energy, has authored seven books, and has lectured widely on wind energy and how to minimize its impact on the environment and the communities of which it is a part.
Gipe is excited to see so much new interest in wind and solar technology, saying "Let's put a renewable energy plant in everyone's back yard. Let's create an energy system for life. Let's do it." But, he is also adamant in guiding people to the right technologies and strategies apart from those who would "seize on the public's fascination with wind energy and sell them wind turbines that perform poorly at high cost." He has tested and documented the performance of small wind turbines, so his updated Wind Energy Basics is an important guide for anyone considering use of wind energy for home, business, or community systems.
"Paul Gipe is an independent, opinionated voice on wind energy, cutting right to the core on almost any wind energy topic. He analyzes the issues with uncompromising standards. He has no trouble sharing the story as he sees it, encouraging all to explore business models and policies that offer something more, something for all of us."

—Lisa Daniels, Executive Director, Windustry
Gipe is a visonary who views wind power as a realistic replacement for the bulk of oil-, coal-, and natural gas– fired electrical plants in the U.S., and as a new fuel for most of the cars in the nation to run on electricity. In this wide-ranging book, Gipe not only covers the basics for understanding how wind turbine technology operates and how to plan a project using it, he makes a broad case for a clean energy future explaining how sustainable energy solutions are doable, can be accomplished much sooner than most realize, and how it will help resuscitate our industrial infrastructure, create jobs, and generate economic opportunity.
For those who are interested in supporting wind energy, Gipe details the advantages of Community Wind projects, offers advice for renewable investment strategies, and explains how government policy could better support energy independence. He doubts the ability of tax incentives and net metering to advance renewables, and he advocates for the adoption of feed-in tarriffs that would guarantee rates and grid connections for independent power producers, following the policies that have been successfully deployed in European countries. "If you pay for it, it [renewable energy] will come."

Paul Gipe
Chapters include:
• Technology
• Wind Energy Basics
• Estimating Performance
• Siting
• Off the Grid
• Interconnection
• Community Wind
• Investing in Wind Energy
• The Challenge
Listen to or read a transcript of an interview with Paul Gipe at The Oil Drum on the Weekend Energy Listening podcast episode Wind Power with Paul Gipe. For more information about Paul Gipe, his work, and his books, visit his web site Wind-Works.org.