The Eco Experience
Windustry thanks our Partners.
Wind Energy Center 2009
at the Minnesota State Fair
GOLD PARTNERS




SILVER PARTNERS




BRONZE PARTNERS


Bergey Wind Power Company
Consulting Engineers Group
Eco-Solutions, LLC
Endurance Wind Power
Faegre & Benson
Fryberger, Buchanan, Smith, & Frederick
Kidwind Project
Jeffrey C. Paulson & Associates, Ltd.
HDR, Inc.
Own Energy
Southwest Wind Power
3M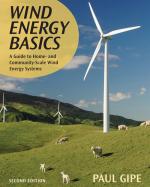 "Wind energy works and makes environmental sense--more so today than ever before," writes Paul Gipe in his newly published Second Edition of
Wind Energy Basics
.
"Paul Gipe is an independent, opinionated voice on wind energy, cutting right to the core on almost any wind energy topic. He analyzes the issues with uncompromising standards."
-Lisa Daniels,
Executive Director,
Windustry


August 2009
Municipal Wind Power in Minnesota



The city of Chaska, Minnesota, will soon have an 80-foot-tall wind turbine generating clean, renewable electricity for local residents and businesses. The Pioneer Ridge Wind Turbine is just one of the eleven turbines that will be installed through the Hometown WindPower program created by the Minnesota Municipal Power Agency (MMPA).

The Hometown WindPower program began in 2006, when MMPA began an ambitious program to locate wind turbines for their 11 member communities across the state of Minnesota. Now, five of the member communities, Chaska, Anoka, Buffalo, North Saint Paul, and Shakopee, have entered the planning stage for their wind power projects this year.


Hometown WindPower is a prime example of how Community Wind is being used in small communities to help keep energy costs stable by creating a long-term fixed price for the power, providing a hedge against rising fuel costs, such as coal and natural gas.

Other Minnesota municipalities are using wind power for these benefits as well. Willmar Municipal Utilities recently completed construction of two wind turbines that will be used to power about 3 percent of the city's electric needs. Moorhead Public Service was a pioneer in 1999 erecting a .75-MW wind turbine, followed by a second turbine in 2001, with their Capture the Wind program voluntarily supported by residential and business customers.

Read the full story on Municipal Wind Power in Minnesota.

Want to Work in the Wind Industry?
Visit the Sustainability Stage in The Eco Experience

Have you considered getting a job in the wind industry or want to know what training options are available? These topics and more will be discussed during presentations on the
Sustainability Stage
in
The Eco Experience
, every day of the Minnesota State Fair, August 27 - September 7, 2009.


Two sessions hosted by Windustry on the Sustainability Stage will focus on careers in wind:


Friday, Sept. 4 at 6 p.m.

Monday, Sept. 7 at 1 p.m.


Talk with Windustry staff and experts to learn about the exciting opportunities available in the wind industry. You'll also be introduced to resources you can use to investigate training programs and career opportunities. Alden Zietz, director of the Wind Energy and Technology program at Iowa Lakes Community College, will share his experiences in the wind energy industry. Zietz will discuss what kind of training is needed for various wind turbine technician roles and what other career opportunities are out there. A 20-minute question-and-answer session will follow.

Other demonstrations and shows on the Sustainability Stage will explore:



Local food

- Eating local on a budget, finding farmers in your area, kid-friendly cooking demonstrations, seasonal recipes;



Home gardening

- Constructing rain barrels, using rain gardens, low-input lawn grasses, composting;



Home energy

- Differences among efficient light bulbs, tips from certified energy auditors, evaluating "eco-friendly" claims on products;



Solar power

- Learn the basics in Solar 101, harnessing solar power on a budget, solar thermal heating;



Recreation

- Sustainable hunting and angling options;



Transportation

- Choosing a greener car, commuting to work by bike, bike-friendly vacations in Minnesota and Wisconsin.

Several presentations aim to teach kids about the environment in exciting ways: The Toonies Enviro-Show '09; Sing Along with your Compost Pile; Clancy, the Mercury Detecting Dog; and Sewerman: The disgusting world of storm sewers.

See a full schedule of Sustainability Stage Events

Windustry Partners with Minnesota Wind Energy Companies for The Eco Experience

Expanding the wind industry in our state will create thousands of new jobs, increase our energy independence, and "revive the economic base of many Minnesota communities," according to Minnesota 2020's recent Winds of Progress report. Minnesota's homegrown businesses and community organizations are leading the way in generating this economic and environmental vitality.

Windustry is fortunate to partner with many wind energy companies working in Minnesota to present the

Wind Energy Center

in

The Eco Experience

at the Minnesota State Fair, a project coordinated by the Minnesota Pollution Control Agency. Windustry thanks our generous Partners for helping us present this museum-quality, interactive educational exhibit that will expose thousands of State Fair visitors to the promises of wind energy.



Our Partners include: Carstensen Contracting Inc.; Fagen Inc.; Suzlon Wind Energy Corporation; Blattner Energy; Gamesa Energy USA; National Wind LLC; Juhl Wind Inc.; Westwood Professional Services; Consulting Engineers Group; Faegre & Benson; Fryberger, Buchanan, Smith & Frederick, PA; 3M; Jeffrey C. Paulson & Associates Ltd.; KidWind; HDR, Inc; OwnEnergy; Southwest Windpower Inc.; Bergey Wind Power Company; Endurance Wind Power; and Eco Solutions LLC.

Read more about the

Wind Energy Center

.
Windspiration
The Wind Cries Mary



Was it really 42 years ago that this band released "The Wind Cries Mary"? How many of you Windustry fans were alive and listening in 1967? Other artists who have covered this song include Miles Davis (

Filles de Kilimanjaro

), Pat Boone (

In a Metal Mood: No More Mr. Nice Guy

) and Cassandra Wilson (

Crossing Jordan

).

Here are the opening lyrics of the song:



After all the jacks

are in their boxes,

and the clowns have all gone to bed,

you can hear happiness staggering

on down the street,

footprints dress in red.

And the wind whispers Mary.

A broom is drearily sweeping
up the broken pieces of yesterday's life.
Somewhere a Queen is weeping,
somewhere a King has no wife.





Who is the band and who was the writer of the song?


Find out at

Windspiration